JOHN 1980: "That's Paul with some contribution from me on lines, probably. We put in the words 'turns me on.' We were so excited to say 'turn me on' –you know, about marijuana and all that… using it as an expression."
PAUL circa-1994: "This was my attempt at a bluesy thing… instead of doing a Little Richard song, whom I admire greatly, I would use the (vocal) style I would have used for that but put it in one of my own songs."
About "She's A Woman"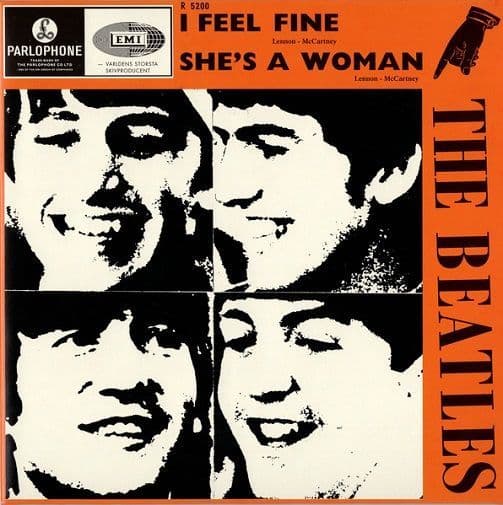 "She's a Woman" was written primarily by Paul McCartney and credited to Lennon–McCartney. This song was released on a non-album single in November 1964 as the B-side to "I Feel Fine", except in North America, where it also appeared on the album Beatles '65. Despite being the B-side, it charted in the US, reaching number four on the Billboard Hot 100 and number eight on the Cash Box Top 100. McCartney tried to write a song in the style of Little Richard when he wrote the song. As the line "turn(s) me on") refers to marijuana, it is the first time drugs have been referenced in a Beatles song.
A recording of "She's a Woman" was made during the sessions for the Beatles' album Beatles for Sale in October 1964. Shortly before recording, McCartney composed most of the song at EMI Recording Studios. As a result of a sparse arrangement, John Lennon's rhythm guitar hits on offbeats, leaving the bass to dominate. Until that point, McCartney's bass was the loudest on a Beatles recording, anticipating his high-profile bass lines later on. During the song's opening, he strains his voice near the top of his register. As a result, the song has appeared on compilation albums such as Rarities, Past Masters Vol. 1, and Mono Masters.
Many music critics and musicologists praised McCartney's strong vocals and the band's loud backing, but some criticised its lyrics as weak. As well as recording the song twice for BBC radio, the Beatles performed it frequently during their 1965 and 1966 tours. An August 1965 performance appears on the 1977 live album The Beatles at the Hollywood Bowl, while a June 1966 performance appears on the 1996 compilation Anthology 2. In his post-Beatles career, McCartney has occasionally performed the song in concert, including an acoustic version on Unplugged (The Official Bootleg), released in 1991. The track has been covered by artists such as Charles River Valley Boys, Jeff Beck, and Scritti Politti.
While not as widely known as some of The Beatles' biggest hits, "She's a Woman" remains a beloved track among fans and is appreciated for its energetic and catchy musicality. The song showcases The Beatles' versatility and their ability to incorporate different musical styles into their repertoire. Its combination of engaging lyrics and memorable melody has contributed to its enduring appeal.
Meaning of "She's A Woman"
"She's a Woman" is a song that celebrates the strength, independence, and allure of a particular woman. The lyrics paint a picture of a woman who is confident, self-assured, and knows her own mind. While the lyrics do not provide specific details about this woman, they convey a sense of admiration and attraction from the narrator's perspective:
"She's a woman who understands / She's a woman who loves her man"
These lines suggest a woman who is considerate, caring, and attentive to the narrator's needs and feelings. She is portrayed as someone who has a deep understanding of the narrator and their relationship.
"She's a Woman" is a tribute to a woman who is strong, caring, and has a positive impact on the narrator's life. The song captures a sense of admiration and appreciation for her qualities.
Personnel
Paul McCartney – double tracked vocal, bass, piano
John Lennon – rhythm guitar
George Harrison – double tracked lead guitar
Ringo Starr – drums, chocalho