JOHN 1963: "The B-side of 'She Loves You' was meant to be the A-side."
PAUL 1963: "If we write one song, then we can get going after that and get more ideas. We wrote 'I'll Get You,' which is the B-side, first. And then 'She Loves You' came after that. You know– We got ideas from that. Then we recorded it."
JOHN 1980: "That was Paul and me trying to write a song… and it didn't work out."
PAUL circa-1994: "It's got an interesting chord in it– 'It's not easy/ To pre-TEND…' That was nicked from a song called 'All My Trials' which is on an album I had by Joan Baez."
About "I'll Get You"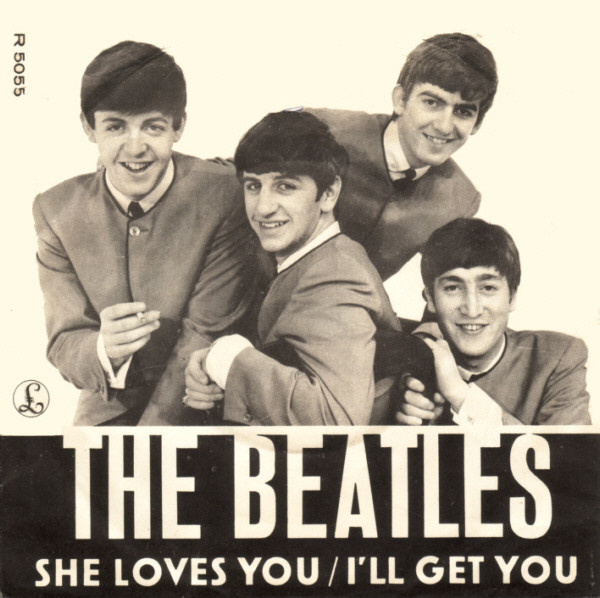 "I'll Get You" is a lively song predominantly authored by John Lennon with contributions from Paul McCartney. Released as the B-side to the single "She Loves You" in the UK on August 23, 1963, it also found its place in various compilation albums.
Musically, the song embodies the signature early Beatles style: a vibrant tempo, a memorable melody, and tight harmonies. It mirrors the band's early influences in rock and roll and rhythm and blues.
Typical of the Beatles' vocal style of that period, John Lennon and Paul McCartney sing in unison for the majority of the track, allowing the few occasions when they do harmonise to stand out. But unlike most Beatles songs of the time there is no lead guitar break; the lead guitar is virtually reduced to a second rhythm guitar. The most prominent instruments in the track are McCartney's "plumply rounded bass" and Lennon's harmonica, which was overdubbed in a rush as session time ran out.
Although "She Loves You" was the standout hit of the single, "I'll Get You" garnered its own share of popularity. It is remembered as one of the early successes that played a pivotal role in establishing the Beatles' international fame. "I'll Get You" was a part of the Beatles' early live performances, highlighting its importance within their live repertoire.
While perhaps not as instantly recognizable as some of the Beatles' bigger hits, "I'll Get You" holds a special place among fans. It is cherished for its infectious energy and the enduring appeal of its harmonies. In sum, "I'll Get You" stands as a testament to the Beatles' early musical talent and their knack for crafting engaging, catchy songs that resonated deeply with audiences. It's a valuable piece of the band's history, reflecting their burgeoning success and evolving musical identity during the early 1960s.
Meaning of "I'll Get You"
"I'll Get You" expresses a determination to win over the affections of someone special. The lyrics convey a sense of confidence and persistence in pursuing a romantic interest. The narrator asserts that despite any challenges or obstacles, he is committed to ultimately winning the person's heart. It's a declaration of determination and a pledge to overcome any barriers in the pursuit of love. Overall, the song conveys a message of unwavering dedication and the belief that true love will prevail.
Personnel
John Lennon – lead vocals, acoustic guitar, harmonica
Paul McCartney – lead vocals, bass guitar
George Harrison – electric guitar, harmony vocals
Ringo Starr – drums