JOHN 1972: "This was one of his first biggies."
JOHN 1980: "'All My Loving' is Paul, I regret to say. Because it's a damn fine piece of work. But I play a pretty mean guitar in back."
PAUL 1984: "Yeah, I wrote that one. It was the first song I ever wrote where I had the words before the music. I wrote the words on a bus on tour, then we got the tune when I arrived there. The first time I've ever worked upside down."
PAUL 1988: "I think that was the first song where I wrote the words without the tune. I wrote the words on the tour bus during our tour with Roy Orbison. We did alot of writing then."
PAUL circa-1994: "It was a good show song. It worked well live."
Info about "All My Loving"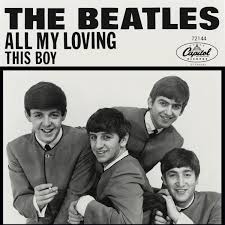 It was written by Paul McCartney (credited to Lennon–McCartney), and produced by George Martin. Though not officially released as a single in the United Kingdom or the United States, the song drew considerable radio airplay, prompting EMI to issue it as the title track of an EP.
The song was released as a single in Canada, where it became a number one hit. The Canadian single was imported into the US in enough quantities to peak at number 45 on the US Billboard Hot 100 in April 1964.
The lyrics follow the "letter song" model as used on "P.S. I Love You", the B-side of their first single. McCartney originally envisioned it as a country & western song, and George Harrison added a Nashville-style guitar solo. John Lennon's rhythm guitar playing utilized back and forth strummed triplets similar to "Da Doo Ron Ron" by The Crystals, a song that was popular at the time, while McCartney plays a walking bass line.
It has been hypothesized that the piece draws inspiration from the Dave Brubeck Quartet's 1959 song "Kathy's Waltz".
Personnel
Paul McCartney – double-tracked lead vocals, bass guitar
John Lennon – harmony vocals and rhythm guitar
George Harrison – backing and harmony vocals, lead guitar
Ringo Starr – drums
George Martin – producer
Norman Smith – engineer