JOHN 1980: "'Thank You Girl' was one of our efforts at writing a single that didn't work. So it became a B-side or an album track."
PAUL 1988: "We knew that if we wrote a song called, 'Thank You Girl' that alot of the girls who wrote us fan letters would take it as a genuine thank you. So alot of our songs were directly addressed to the fans."
About "Thank You Girl"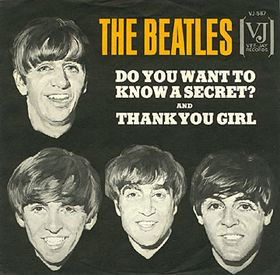 "Thank You Girl" was written by John Lennon and Paul McCartney. Originally released as the B-side of "From Me to You", the single was recorded on the same day as the track. Although it was not released on an LP in the United Kingdom until Rarities in 1978, the song was on The Beatles' Second Album in the United States. In 1964, it reached No. 35 on the Billboard Hot 100 as the B-side of the single "Do You Want to Know a Secret".
The song was originally titled "Thank You, Little Girl" by John Lennon and Paul McCartney in appreciation of the band's many female fans. In "Thank You Girl," the two show how they were able to create a song from scratch together. Ian MacDonald suggests that Lennon probably wrote the first line of each verse, allowing McCartney to use his flair for wordplay and inner-rhyming to complete it.
Meaning of "Thank You Girl"
The lyrics of "Thank You Girl" express gratitude and appreciation to a special someone, possibly a romantic partner. The singer is thanking the girl for her love, support, and the positive impact she has had on his life. The song conveys a sense of affection and a desire to express deep appreciation for the girl's presence and influence.
Overall, "Thank You Girl" is a heartfelt expression of gratitude and affection, reflecting the warm sentiments often associated with love songs of that era
Personnel
John Lennon – double-tracked vocal, rhythm guitar, harmonica
Paul McCartney – harmony vocal, bass guitar
George Harrison – lead guitar
Ringo Starr – drums